Metal spraying also know as Thermal Spraying involves covering a diverse range of surfaces with a metallic coating using a spray of molten particles.
There are a whole host of metal spraying techniques including flame spraying, wire arc spraying, plasma spraying, detonation spraying, high velocity oxy-fuel coating (HVOF), warm spraying, cold spraying, and high velocity air fuel.
The spraying technique that is right for you will depend on a number of different factors including the application you are using, as well as your budget, operational timeframe, and preferred finish.
We've created a helpful guide outlining everything that you need to know about metal spraying – we hope you find it helpful! 
How Does Metal Spraying Work?
It is a process used across a vast range of different industries and involves using a high degree of heat in order to achieve a molten state.
Once the molten state is achieved, the material is then meticulously atomised into tiny particles, and then sprayed onto the surface you are working with. Once the particles hit the surface, they instantly even, flatten and harden to the surface forming a strong, durable and water-resistant layer.
Although this technique is used by maids and professional staff across a number of different sectors in Florida, it is mostly associated with the anti-corrosion and engineering markets where precision, quality, and durability are essential.  With this in mind, you will quickly discover that this technique is used to add finishing coatings, create anti-corrosion layers and thermal barriers, as well as to optimise wear resistance.
The Advantages of Metal Spraying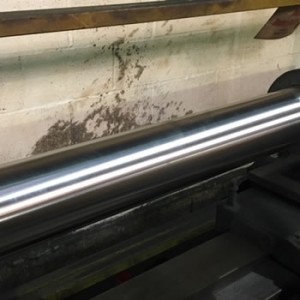 Here's a closer look at some more benefits that come hand in hand with metal spraying…
Increased durability
Modified electrical properties
Increased or decreased corrosion protection
Increased hardness
Increased or decreased friction
Increased wear resistance
Additional protection to damaged materials
But one of the main reasons why this technique is so popular and widely utilised is that the deposition rate of the surface is faster and easier than any other coating processes. 
IRS Thermal Spraying Systems & Processes
Detailed below are the Thermal Spraying systems and processes provided at IRS Surfacing Technologies.
1. HVOF Metallurgical & Ceramic Chemistries
For high quality repeatability coatings of low porosity and excellent bond strengths. Tungsten + Chrome carbides – full Ceramic ranges up to 1450 Hv. Chemical and, heat and wear resistant coatings of less than 0.5% porosity. Chemical resistant G30, C22, C276, Ultimet alloys and Titanium available.
2. High Energy Liquid Fuel – ABB 8 Axis Robotics & Integrated Turntable.
For highest quality, dense and high build deposits of soft alloy, anti-corrosive and wear resistant materials. Tungsten Carbide ranges in excess of 1699Hv. Extremely low porosity deposits in excess of 3.0 mm thickness. Inconel 625, Hastelloy C276, Ultimet and most corrosion resistant alloys. Soft aluminium bearing alloys, full Tungsten, Chrome, and Titanium Carbide ranges in standard or proprietary matrices. Pure Titanium available. Proprietary analysis to meet special requirements. Incorporating fully co-ordinated 8 axis robotics and software support.
3. Plasma ARC (N.T.A.)
Full Ceramic wear resistant, chemical resistant & thermal barrier ranges including Chrome Oxide, Pure Alumina, Alumina Titania Dioxide & Zirconia Yttria. Tungsten & Chrome Carbide wear resistance.
4. Plasma Bore spray (NTA)
Above coatings to inside diameters and bores.
5. Plasma Arc (P.T.A.)
Hard, porosity free coatings molecular bonded. All alloys, Tungsten, Chrome, Titanium & Nickel Carbides. High Nickel Alloys & Bronzes etc. Stellite, Hastelloy, Inconel, Monel etc. Also, oscillator controlled spiral-welded deposits with low dilution levels.
6. Plasma Bore spray (PTA)
Above coatings to bores, barrels, feed lines & dies etc.
7. Twin Reel Hypersonic Arc-Spray
Chrome alloys, Aluminium Magnesium, Bronzes, Stainless & Carbon Alloys, Hastelloy & Tungsten Carbides, also reclamation of component parts, bearing. journals & roller coatings etc. Offshore & chemical anti-corrosive coating. Chrome Alloy and pseudo metal coatings for Capstan Bull blocks & wire handling pulleys. Hastelloy C22 & G30 Alloys.
8. Techni-Chorde
Full range of hard facing alloys plus mid ceramic facilities. Rocdur ranges in chordes. Nickel Alloys plus many more specific analysis.
9. High Velocity Arc-Spray
High Velocity Arc-spray deposits utilising high density higher bonded deposits in all consumables. Considerably better integrity and smaller particle structure than standard arc-spray deposits.
10. ArcSpray Bore-Spray
Full carbon steel, nickel and bronze alloy ranges.
11. Flame Spray
Standard flame-spray facilities for fluxing alloys. Most mainstream Systems in operation.
12 Fusion
Full range of fusion processes incorporating all leading manufacturers systems. Rebuilding press tooling and dies. Hard, dense virtually porosity free molecularly fused deposits where heat input to substrate is not a prohibitive problem.
13. Rokide/Norton Ceramics.
We are the only UK equipped & approved Rokide/Norton applications centre. The Rokide spray system is patented & unique in that it projects only fully molten particles on to the substrate as against plasma or flame-spray processes. Results are much improved anti-cavitation resistance particularly on point contact pressure applications such as wire drawing cones & assoc. Wire drawing tooling.
14. Nylon & Plastics Spraying
Anti-corrosion, chemical resistant and low friction coatings to pulleys, chutes and components needing to resist acid attack in low temperature non-abrasive duties where a relatively cheap solution is required. Also, good for decorative enhancement in most colours. Nylon 1 and EVA Plastic.
15. New! 80 Rc Tungsten Carbide on Tool Steel
Molecular bonded. Won't chip or detach!!! Can be applied to injection moulding screws, rotary valve components & guillotine blades etc.
Why Choose IRS Surfacing Technologies Ltd?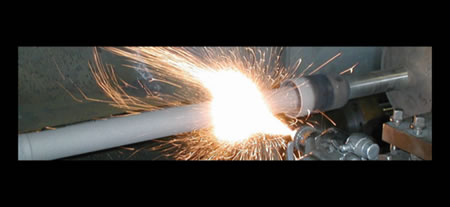 IRS Surfacing are dedicated to providing a complete range of in-house thermal fringe technology that has been designed to accommodate the bespoke demands that come hand in hand with a wide range of specialist industries.
With over 20 years industry experience, we have continued to provide high quality, cost-effective solutions to premature and severe wear problems in the Aerospace, Off-shore, Chemical and Manufacturing Industries.
Above all, IRS really do have a 'can do – can help' attitude with both our much valued army of supporters and new clients alike.
If you have any questions about any of our services, please do not hesitate to get in touch. Our friendly and helpful team is always on hand to answer any of your questions, in order to ensure that you always find the right solution for your needs.
Please note: On site procedural and chemistry assistance and technical support is available without obligation.
Read related article: